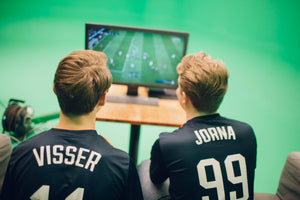 1. GAMEPLAY ANALYSIS
This is where we start off. We have got quite a selection procedure for what games fit this best. We want it to be a recent game. We want it to be a loss. And, we want it to be a game where the player was completely focused.

We analyse the game just like a 'video analyst would do in real life football. The small things make the difference. In order to have a complete overview of the strengths and weaknesses, we write all of our findings down in a document.
2. ONLINE FEEDBACK SESSION
Once the analysis has been completed, it's time to schedule a session with you. Most of the times this online session takes place on Skype or Discord.

The EA FC coach and you chat while taking a look at the game and specific situations that need addressing. Our goal is to highlight moments that don't go as they should. We try to find a solution to make sure this moment will not happen again.

Besides, we try to highlight situations that do go well. Why? Because it's something that the player has already done. If you have done it once, it is easier to perform it another time.
3. DETAILED TRAINING PROGRAM
You do get better by grinding games, but it is not the most effective way of improving. Do you struggle with a certain aspect of EA FC? We will provide a tailor-made schedule that will effectively help you improve at that aspect of EA FC.

This schedule will most likely cover a couple of weeks, where you have time to focus on this particular aspect of your EA FC game. Once we've improved this thing, we find new aspects that needs developing.

READY TO START NOW? LET'S GO.
Now that you know the process, are you ready to start improving your EA FC game?
WE'VE GOT THE EXPERIENCE.
Ever since our launch, we have focused on the development of the talents in our professional FIFA / EA FC Team. In just a couple of years, we have achieved great things with all of our players:

• Winner FIFAe World Cup
• Winner eChampions League
• Winner FUT Champions Cup 3 & 4
• Winner ePremier League
• Winner eMLS
• 2x European Champion
• 3x eDivisie Champion

WE'VE GOT THE COACHES.
You will receive coaching from a top-tier coach. Meet Jelte Golbach and Jelle Visser, who have weekly sessions with all of our talents and coached multiple talents to trophies. They are easy-going and have plenty of examples that will help you take your game to the next level, whether it's for EA FC or FIFA.
FOR ANY PLAYER.
Do you want to get those high ranks in Weekend League, get to the Elite Division in Division Rivals, or do you just want to beat your friends in a game of EA FC? Everything is fine with us. We turn people into better EA FC players, whatever level they are at the start.
Dani Visser
eDivisie Champion
''My journey in competitive FIFA started with Team Gullit. I was an Elite-1 player and I sometime managed to get a TOP-100 in the Weekend League. Ever since we started working together, I got better and better. As a member of the professional team of Team Gullit, I get to do weekly coaching sessions. They helped me a lot. Together with them, I completely changed my way of playing. The highlight of the past couple years definitely was winning the Dutch national Championship, the eDivisie. The coaching sessions have definitely contributed to that.''
Robbert de Block
Competitive EA FC Player
''Buying the Coaching Session was a great decision. They did a great job to thoroughly analyse the game I lost in Weekend League. They showed me the things I could improve on in a Skype session, which has helped me gain new insights. I could not have predicted that gameplay analysis helps you improve so quickly. I would recommend their session, a hundred per cent.''
GET BETTER AT EA FC. NOW.
Don't wait. Start getting better at EA FC 24. In the most effective way there is. Guided by professional EA FC & FIFA coaches.
Frequently Asked Question